Ford 4R100 Rebuild Kit Master 4X4 High Performance Power Pack Stage 3 1998-UP
Ford 4R100 Rebuild Kit Master 4X4 High Performance Power Pack Stage 3 1998-UP
Product Description
New
Ford 4R100 Rebuild Kit Master 2X4 High Performance Power Pack Stage 3 1998-UP

With Alto Red Eagle Frictions, Alto Kolene Steels, Alto Band, Alto HP Gasket Seal & Ring Kit, Alto 2X4 Filter, Pump Bushing & Extension Housing Bushing.


You WILL NOT find a more badass kit anywhere that delivers more performance than this kit made by Alto Products brought to you by us World Wide Parts Outlet. By using this power-pack Master kit you add up to 8 more friction plates overall!!!!!
Kit shown comes with:
1 - Complete Alto Red Eagle Friction Module "
With Hardened Spline Forward Clutches"
1 - Complete Alto Kolene Steel Module

1 - Forward Power Pack takes you from stock 4 friction count up to 6 frictions.

1 - Direct Power Pack takes you from stock 4 friction count up to 8 frictions.

1 - OD Power Pack takes you from stock 3 friction count up to 4 frictions.

1- Intermediate Power Pack takes you from stock 3 friction count up to 4 frictions.
"see note below"


1 - Complete Alto HP Gasket Set "With Teflon Rings"
1 - Alto Band



1 - Alto Filter 4x4



1 - Alto Bushings
"Pump & Extension Housing"
"Intermediate Power pack
Note: It may be necessary to remove .040" from the intermediate apply piston to provide proper
clearance in some applications.
The 2001 4R100 with the 60-tooth splined diode one-way clutch will have to be retro-fitted with
the 50-tooth splined one-way clutch and supporting components."
Don't waste time ordering kits that are not complete
or for your exact application.

Order this kit and it WILL fit exactly what it says it will.
No more second guessing how many clutches
or what year and engine size and so on....

Order the right part the first time & at the BEST price!
Alto Is Better Than The Rest.
Explanation of Friction plate materials:
We see many different listings on ebay that say Heavy Duty or High Performance on many different listings, it is a little misleading to say the least.

Paper Colors and Information:

Tan, Light brown & Dark Brown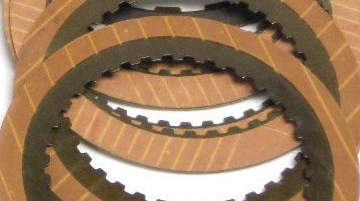 Tan Paper Frictions ARE Stock Not High Performance Not Heavy Duty your Transmission from the factory
was built with these "photo above Left".
Light & Dark Brown papers are again stock materials on some but not all Transmissions from the factory.
They are an improvement over the tan paper but they are NOT high performance and are NOT heavy duty "photo above Right".

Green/Grey with Graphite Fleck & Black With Graphite Fleck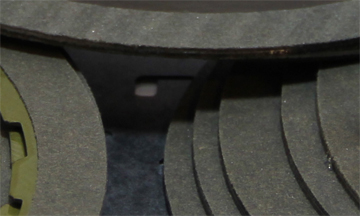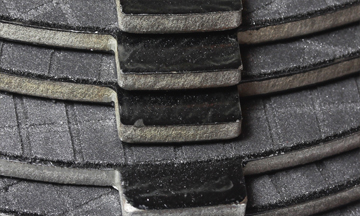 Green/Grey with Graphite Fleck papers "HEG" are an improvement over stock and ARE considered Heavy Duty
but NOT high performance.
Green with Graphite Fleck "photo above Left" is High Energy Graphite material.
Grey with Graphite Fleck is a just a Graphite infused Grey paper
If it were NOT infused with the graphite is would carry the same grade as the Tan, Light & Dark Brown papers and would not be reliable for heavy duty use.
But seeing it is infused with the graphite that would make it acceptable for Heavy Duty use.
Black With Graphite Fleck "photo above Right" ARE considered Heavy Duty and High Performance in any application.
It is a carbon infused paper with the addition of graphite VERY Strong.

Blue & Red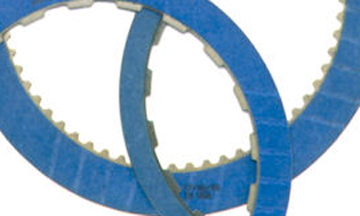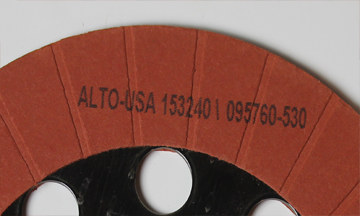 Blue plates are sufficient for Heavy Duty use and also high performance "photo above Left".
Red Plates ARE the best material you can buy for ANY Heavy Duty or High Performance application hands down specifically the Red Eagle plates" photo above Right".
Shipping:
Free Shipping only to the lower 48 Contiguous United States.
Please contact us for pricing on shipping information for international order inquiries.

Free Shipping to lower 48 US States Only.
Alaska, Hawaii, Puerto Rico, APO/FPO MUST contact US before purchase
for options and additional costs No exceptions.
Outside United States Shipping ONLY if your location is listed in the
Global Shipping Program.
You can see how much it will cost additionally by
selecting see details on each Item.
Free Shipping is included for each Item Only to the US shipping center.
When you pay for the item through PayPal, you are authorizing 2 payment
transactions. The first payment goes to the us the seller and consists of the
item cost and the domestic shipping costs.
The second payment goes to the global shipping provider and consists of the
international shipping costs and any import charges.



Returns:
30 Day return Money Back or replacement Parts must be in good unused condition.
Buyer to Cover shipping for return unless...
Manufacturer defect is present before use of item & must contact us first
for an Return Material Authorization Tag.

________________________________________________________________

About
Alto Products Corp.
Is the oldest and largest independently owned and operated clutch plate and automatic transmission parts manufacturer in the world.
Alto is an ISO certified manufacturer servicing markets around the world.
Alto is the expert in the design and manufacture of bonded friction materials, stamped steel separator reaction discs,
brake bands and gasket and seal kits. Our capabilities include bonding, stamping, laser cutting, CNC machining,
broaching, engineering, in-house tooling and design services.
Over a BILLION Alto clutch plates have been installed
in automotive, heavy duty, high-performance, marine and motorcycle applications over the past fifty years.
Automatic Transmission Parts, Friction and Steel Plates, Hi-Performance Red Eagle Clutches, Banner, Master and Super Rebuilding Kits,
Bands, Filters, Modulators, Gaskets and Seals
Gears and Hard Parts, Coolers, OEITM Parts and PowerSolutionTM ,
Standard Transmission Parts, Clutch Kits, Clutch Discs, Clutch Covers, Bearings
Clutch Hydraulics, Product Line Applications, Automotive and Light Duty, Light,
Medium and Heavy Duty Truck, Heavy Duty Off Highway and Agricultural
Hi-Performance, Marine, Motorcycle
Other Details
Placement on Vehicle:
Front
Country of Manufacture:
United States
Transmission Type:
4R100 2001-UP
Gasket Seal and Ring Kit:
Yes Alto
Friction Module:
Yes Alto HP Red Eagle
Steel Module:
Yes Alto Kolene
Manufacturer Part Number:
W263244446129
Powerpacks:
Yes FWD Direct OD & Intermediate
Product Reviews
This product hasn't received any reviews yet. Be the first to review this product!