TH700 700 4L60E HD TRANSMISSION THE BEAST/MONSTER REACTION SUN SHELL
Product Description
New
TH700-R4 4L60E HD Transmission The Monster Reaction Sun Shell
The sun gear shell AKA reaction drive shell is the weakest component in the 700R4/4L60E.
This shell is treated and is much thicker and ten times stronger than the stock OE shell.
A must have upgrade even in stock applications.
This is NOT the OE type shell with just hardened splines.
This is NOT the SPX /Sonnax style Shell that has the extra holes for special washer with 4 round tabs but is identical other than bottom bevel of shell and washer that is required.
Get the same performance and durability at half the price.
95% of all Orders Ship Same Business day all others Ship within 1 Business Day.
Below is an explanation of Friction plate materials you will see on eBay:
We see many different listings on eBay that say Heavy Duty or High Performance on many different listings, it is a little misleading to say the least.
Paper Colors and Information:
Tan, Light brown Dark Brown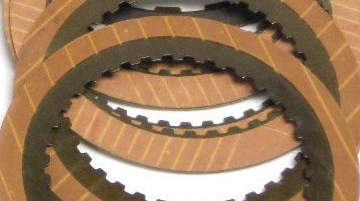 Tan Paper Frictions ARE Stock Not High Performance Not Heavy Duty your Transmission from the factory was built with these "photo top".
Light Dark Brown papers are again stock materials on some but not all Transmissions from the factory.They are an improvement over the tan paper, but they are NOT high performance and are NOT heavy duty "photo above bottom.
Green/Grey with Graphite Fleck Black With Graphite Fleck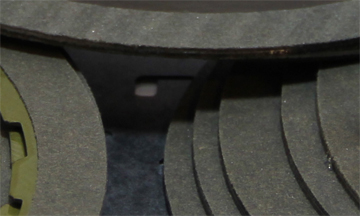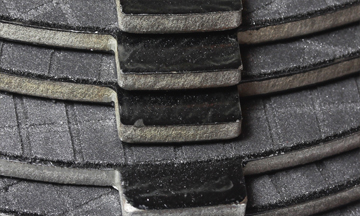 Green/Grey with Graphite Fleck papers "HEG" are an improvement over stock and ARE considered Heavy Duty but NOT high performance.Green with Graphite Fleck "photo above top" is High Energy Graphite material.
Grey with Graphite Fleck is a just a Graphite infused Grey paper If it was NOT infused with the graphite is would carry the same grade as the Tan, Light Dark Brown papers and would not be reliable for heavy-duty use.
But seeing it is infused with the graphite that would make it acceptable for Heavy Duty use.Black With Graphite Fleck "photo above bottom"ARE considered Heavy Duty and High Performance in any application.It is a carbon infused paper with the addition of graphite VERY Strong.
Blue Red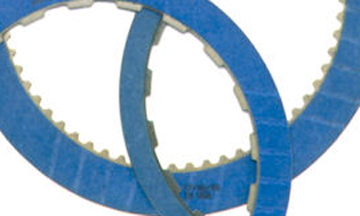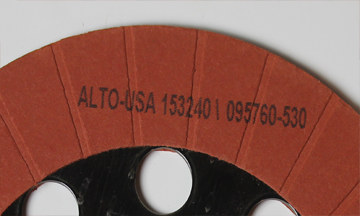 Red Blue plates are sufficient for Heavy Duty use and also high performance "photo above Top.
Red Plates ARE the best material you can buy for ANY Heavy Duty or High-Performance application hands down specifically the Red Eagle plates" photo above Bottom."
Shipping:

Free Shipping only to the lower 48 Contiguous United States.
Please contact us for pricing on shipping information for international order inquiries.
Free Shipping to lower 48 US States Only.
Alaska, Hawaii, Puerto Rico, APO/FPO MUST contact US before purchasing for options and additional costs No exceptions.
Outside United States Shipping ONLY if your location is listed in the eBay Global Shipping Program.
Global Shipping Program.
You can see how much it will cost additionally by selecting see details on each Item.
Free Shipping is included for each Item Only to the US shipping center.When you pay for the item through PayPal, you are authorizing 2 payment transactions.
The first payment goes to the us the seller and consists of the item cost and the domestic shipping costs.
The second payment goes to the global shipping provider and consists of the international shipping costs and any import charges.

Returns:

30 Day return Money Back or replacement, Parts must be in good unused unopened condition.
Buyer to Cover shipping for return unless... Manufacturer defect is present before use of item & must contact us first for an Return Material Authorization Tag.
Other Details
Manufacturer Part Number:
W360874802523
Placement on Vehicle:
Front
Transmission Type:
4L60 4L60E With Washer type Sun Shell 1982-2001
Product Reviews
This product hasn't received any reviews yet. Be the first to review this product!
Customers also viewed